Biomek Method Launcher
Method Launcher is supplemental software for Biomek liquid handlers that provides a simplified user interface and utilities that move users quickly and accurately through setup to begin their method.
Method Launch Pad
Simplified control for maximum productivity
A simple user interface enables even novice users to harness the full power of Biomek liquid handlers.
Organize your methods and easily initiate ready-to-run methods using the "app-style" launch screen.
Print a summary of your method, labware needs and reagent concentrations for offline prep work.
Control methods via a web browser from virtually anywhere you happen to be by using the DeckOptix™ Remote Monitoring system.
Review various levels of method data directly in Method Launcher.
Guided Labware Setup

Proceed quickly and confidently by using our most advanced deck setup utility

Guided Labware Setup organizes details on labware and reagents, and leads you through setup, step-by-step.

Receive clear instructions to help prepare master mixes and reagent plates.
Set up the deck by labware groups and save your sensitive reagents and samples for last.
Running extra samples today? Dynamic methods automatically adjust labware quantity/layout as sample quantity changes—without the need to reprogram.
Get enhanced support for labware stacks and lidded labware.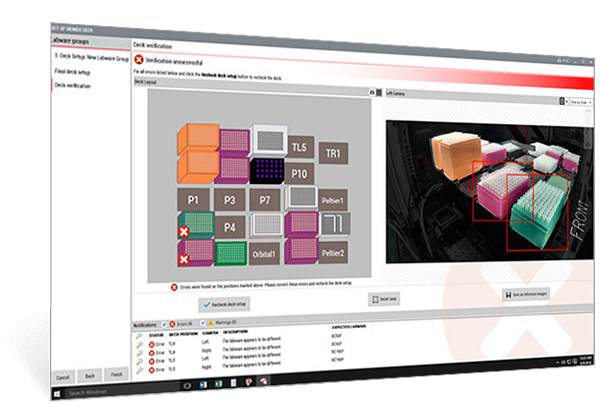 DeckOptix™ Final Check (i-Series Liquid Handlers only)
Address potential problems before you start
Human error is a part of science. DeckOptix™ Final Check analyzes the deck for common setup errors and alerts you prior to the start of a run.
Confirm labware is placed correctly on the automation deck.
Verify use of the appropriate tip and plate types.
Maximize walkaway time by avoiding method interruptions.
Watch: DeckOptix™ Final Check Video