Echo Dose-Response Software
Improve Results with Direct Dilution
Prepare dose-response and standard curves using the unique ability of the Echo Liquid Handler to perform Direct Dilution. In a single protocol, the intuitive graphical user interface guides the transfer of samples controls and back-fill solutions for every curve. Reliable dose-response determination starts with liquid transfers with exceptional accuracy:
Visualize curve layouts, starting concentrations, final concentrations, and normalization requirements
Produce row- and column-wise dilutions
Replicate curves in adjacent wells, sequentially or across plates
Automate normalization
Import a pick list to identify samples for dilution
Errors do not compound as in serial dilutions
Direct Dilution Eliminates Carryover and Improves Results
Direct Dilution is a precise method for generating drug concentrations used in dose-response experiments. As opposed to serial dilution, nano- and microliter volumes are transferred in proportion to the desired concentration. With tip-based liquid handling, direct dilution is often not practical or possible. Dilution using the serial method can lead to inaccurate results due to error propagation.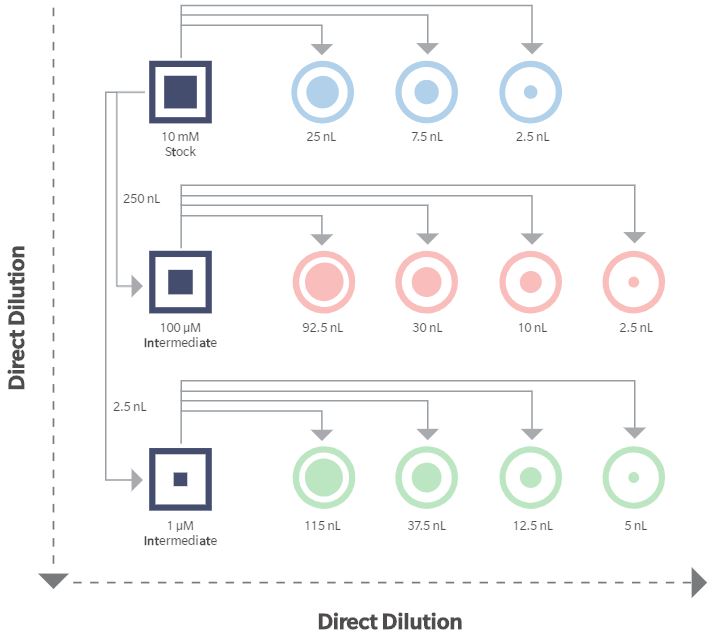 Figure: Example of a 11-point curve created using Direct Dilution. The image to the left shows how the desired concentrations are created by transfers directly from the stock sample and two intermediate dilutions of the stock sample. The resulting IC50 is shown to the right.
Assemble dose-response curves by directly transferring different sub-microliter volumes from one or more stock concentrations to achieve the desired final concentration at each point. Acoustic, non-contact transfer with Echo Liquid Handlers eliminates tips, carryover, and dilution errors.
Echo Dose-Response Specifications
Description
Specifications
Operating system

Microsoft® Windows 7 (32-bit or 64-bit), or Microsoft® Windows 10 64-bit (Windows

7 compatibility mode); Windows.Net Framework 4.62 or greater

CPU
Intel® Core™ i5 or later
Memory
4 GB or greater
Network connection
10/100/1000 BaseT (2 network connections are required)
Network protocol
TCP/IP
Hard drive
4 GB Free Space Available
Video resolution
1920 x 1080 recommended resolution (1440 x 900 minimum resolution)

Echo Client Software

2.6 or later

Echo.Net Framework

1.7 or later