Beckman Coulter Life Sciences and Pillar Biosciences Announce NGS Application Development Pipeline for the Biomek NGeniuS System
Assays Focus on Accelerating Cancer Research
Indianapolis, IN – (November 7, 2023) Beckman Coulter Life Sciences, a global leader in laboratory automation and innovation, continues to lead the way with next-generation sequencing (NGS) research solutions. Today the company announces a collaboration agreement with Pillar Biosciences, which develops and distributes IVD & RUO NGS testing solutions based on their proprietary SLIMamp® technology to help localize patient testing and optimize the selection of precision therapies for cancer patients.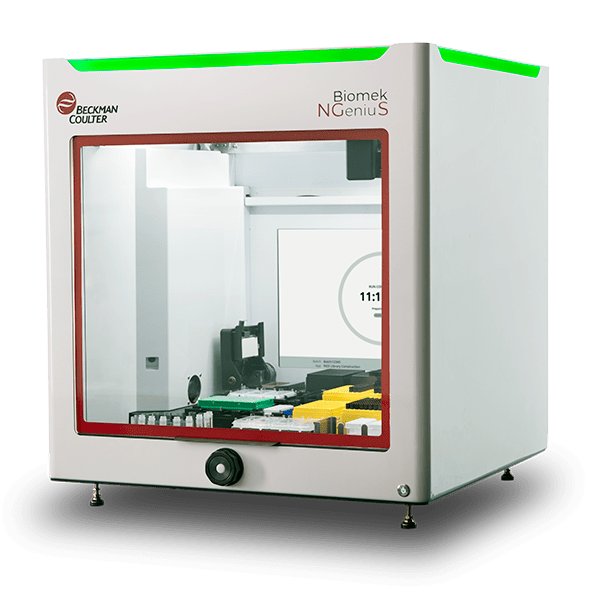 Pillar Biosciences will develop a series of applications for use on the Biomek NGeniuS Next Generation Library Preparation System as part of the agreement. Launched in June of 2022, the Biomek NGeniuS System continues to gain a solid following in research thanks to its open-chemistry concept, user-friendly software, and Dynamic DeckOptix System which reduces errors by identifying misplaced labware.
The application development partnership is initially focused on five commercially-available, solid tumor liquid biopsy and hematology panels from Pillar Biosciences:
oncoReveal™ Myeloid
oncoReveal™ Solid Tumor v2
oncoReveal™ Multi-Cancer plus CNV
oncoReveal™ Solid Tumor 22 Gene
oncoReveal™ Core LBx
"Enabling customers to achieve pioneering research breakthroughs is paramount to what we do each and every day at Beckman Coulter Life Sciences," said Ewan Grant, Senior Director of Liquid Handling and Genomics Product Management. "We are elated that Pillar Biosciences has put their trust in us to deliver a minimal hands-on time solution that removes the burden of slow and grueling manual library preparation, and we look forward to what will be achieved to further accelerate answers in cancer research."
"The complexity and costs associated with NGS testing are still barriers to broader adoption. A key advantage for Pillar Biosciences is our streamlined single tube, one-day NGS workflow," said Randy Pritchard, CEO of Pillar Biosciences. "Combining the simplicity of our NGS library preparation technology with the automation capabilities of the Biomek NGeniuS System will significantly reduce error, assay costs, and hands-on time, helping ensure more oncology researchers get the results they need faster, with lower costs and greater efficiency."
The application from Pillar Biosciences specifically designed for the Biomek NGeniuS System will be available to customers via a first-of-its-kind electronic application library.
A presentation highlighting the research findings will take place at the November Association for Molecular Pathology (AMP) Annual Meeting and Expo in Salt Lake City, Utah. The presentation, titled Highly Accurate and Automated (RUO) NGS Assays for Efficient Localized LBx and TBx Testing in Oncology will take place on Wednesday, November 15, 2023 at 9:00 a.m. MST. A scientific poster entitled Automation of the Pillar Biosciences oncoReveal Solid Tumor 22 gene panel (ORST22) on the Biomek NGeniuS Next Generation Library Prep System will also be presented on Saturday, November 18 at 9:15 a.m. MST.
With the global NGS market projected to grow to nearly $27 billion by 20271, demand is expected to increase for solutions to provide critical assistance to NGS labs. The Biomek NGeniuS System provides users flexibility with exclusive software that allows any batch size, from 4 to 24 samples, to be set up from anywhere and monitored remotely*. The workstation also reduces loading errors by combining sophisticated optical analytics technology to give users real-time feedback on labware placement. More product information can be found by clicking here.
About Beckman Coulter Life Sciences
Life sciences. Research. Precision manufacturing. If your life's calling is in any of these or related fields, you need to know Beckman Coulter Life Sciences. Our mission is to empower those seeking answers to life's important scientific and healthcare questions. Since 1935, the Beckman name has been synonymous with technologies that simplify and automate complex biomedical testing. Decades later, our global organization also came to embody the scientific legacy of the Coulter name. Today, Beckman Coulter Life Sciences is a trusted, worldwide resource for tools to help optimize research and manufacturing efficiency. Centrifuges. Particle counters/analyzers. Automated liquid handlers. Flow cytometers. Genomic reagents. All these products—and many more—continue to make a difference in people's lives by improving the productivity of dedicated scientists, quality control experts and others. Wherever people need answers, from prestigious universities and major pharmaceutical companies, to small biotech startups, food/beverage and electronics manufacturing facilities, you can find Beckman Coulter Life Sciences. For more details, visit beckman.com/contact-us.
About Pillar Biosciences
Pillar Biosciences is the leader in Decision Medicine™, which is the utilization of highly accurate and sensitive next-generation sequencing (NGS) testing technology to generate data that optimizes the selection of precision therapies for cancer patients, from tumor profiling to therapy selection and recurrence monitoring. Pillar's NGS testing solutions, including oncoReveal™ CDx pan-cancer solid tumor IVD, currently under review by FDA, are powered by its proprietary SLIMamp® and PiVAT® technologies, and decentralize the testing process, reducing diagnostic costs and improving access and efficiency of complex NGS testing for clinicians, prescribers, and patients globally. The company has more than 20 NGS testing kits available in IVD or RUO formats, and several others in various stages of development, including a comprehensive liquid biopsy assay and tumor-informed MRD assay. Pillar Biosciences has operations in Natick, MA and Shanghai, China. For more information visit pillarbiosci.com and connect with us on LinkedIn.
1 Forecast from Markets and Markets, January 2023
* Requires Google Chrome or Microsoft Edge on an enabled computer.
In development on the Biomek NGeniuS System, performance characteristics have not been validated.
Products and demonstrated applications are not intended or validated for use in diagnostic procedures.
Beckman Coulter, the stylized logo, and the Beckman Coulter product and service marks mentioned herein, including Biomek and Biomek NGeniuS, are trademarks or registered trademarks of Beckman Coulter, Inc. in the United States and other countries. All other trademarks are the property of their respective owners.
---
Contact:
Matt McCutcheon, Global External Communications Manager